**UPDATE**
We are currently working to fix a known issue regarding Alliance Prestige. With the introduction of Relics, Summoner Prestige is now the average PI of your Top 5 Champions and the average PI of your Top 5 Relics (regardless of which Champion they are attached to) combined.

Today we pushed a fix that will allow for proper reward calculations in Alliance Quests. However, the display for Alliance Prestige will not be accurate and does not include Relic Prestige. This is a display issue only.

**KNOWN ISSUE**
Some items are displaying erroneous star ratings. This seems to be happening most on items where typically there are no star ratings. We have found the cause for the issue and it will be resolved, targeting mid-late next week.
Thanks for the Moon Knight micro-buff!

Magrailothos
Posts: 4,173
★★★★★
So Moon Knight stacks bleeds now! Noticed it this morning in the arena: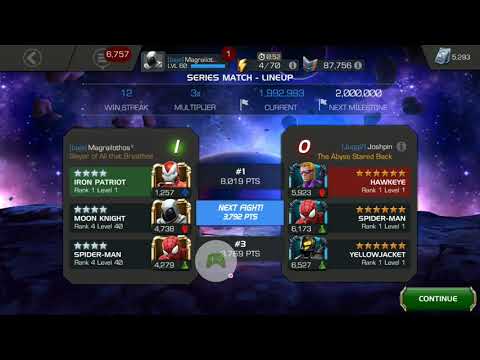 Miike has confirmed this was intentional on Twitter:
My response:
His damage is definitely much improved with this, particularly if you've invested in Deep Wounds. He's no demigod, but at least this makes him useable; and not just a silent partner providing a buff to someone like Darkhawk.
Could be great with the right synergy team -
Night Thrasher (+40% bleed duration)
Darkhawk (Power Gain or Regen at start of the fight)
Iron Patriot (decent critical rate boost)
+ one other (Ronin? - chance to regenerate when struck?)
Can any of the mods confirm if this is expected to be the full extent of his 'Tune-Up', or is MK still on the waiting list for a proper buff?