Summoners, due to a technical issue, this week's series of Alliance Quests will be cancelled at 4pm PT. There will not be any Rewards for this series. The next series of Alliance Quests will start on April 18 at 12pm PT. We will be assessing the impact on Alliances and compensating accordingly, as well as returning Alliance Tickets.
Master mode Hood 3.1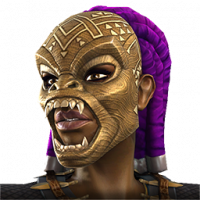 Jofus14
Posts: 2
The 3.1 Hood is absolutely ridiculous and unfair. I understand that it is supposed to be a challenge, but this is absolutely ridiculous. My best option was a 4/40 daredevil classic, and he couldn't even do it. He would literally just sit there blocking for 90% of the fight. I would take about a 1/4 of his health, then he would just sit back blocking until full. It was literally impossible. I spent 300 units just to realize that the fight was impossible for me for some reason. He would not use specials, until he got to his level 3, almost like he was on an all or nothing node. This is complete, unfair ****. There was one time that he actually would fight, and I got him to 9,000 health before he killed me, then I went back in and he just sat back regenerating his health, and he got full again, and there was nothing I could do. Please at least make it to where he uses specials more often.