My Omega Boss Rush Run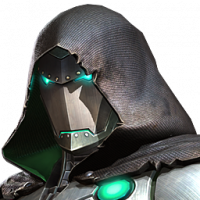 Rookiie
Posts: 4,267
★★★★★
Done.

Pulls: 10% Skill T5CC, Tech T5CC.

Most effective champions in order w/ rating:
1. Doctor Doom (10/10)
2. Captain Marvel (9/10)
3. Sunspot (6/10)
4. Nick Fury (3/10)
5. Guillotine 2099 (1/10)

Items used: 7 team revives. I know, it's a lot. But that's the price I paid for the team I brought and their performance in the run. Doom and Marvel were the only ones putting in significant work. Guillotine 2099 was a wasted slot. About a third of the way in I realized my mistake and wished I brought Cap IW or HT instead. With that replacement alone, I'm certain I could do it again with 3 or 4 team revives max, as they are both high performing boss killers. It really wasn't very difficult.

If you haven't finished it yet, plan well. As you can see in my case, one mistake in your slot can cost you quite a bit.