My Honest Thoughts on Cavalier Difficulty and a Response to Seatin's Video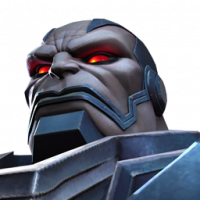 KDSuperFlash10
Posts: 5,869
★★★★★
I like Cavalier difficulty. I think Kabam nailed everything on except the rewards. In Seatin's "leaving my alliance" video and as many others have mentioned, MCOC players want fun nodes to compliment challenging nodes. And Kabam did EXACTLY that. And people were still mad. I'm gonna have to disagree with everyone who thinks that Cav difficulty is too hard or too consuming. Just don't do it. I think Kabam nailed the node design down for about 85% of cav difficulty, which is very impressive for Kabam's recent standards. They had exactly what players wanted: fun nodes to compliment challenging nodes. Buffed up and the cosmic aptitude node. That was so fun. The science quest was very fun as well and the nodes complimented each other very well. The mystic quest as well, especially if you had a great mystic nullifier/high special attack dealer. Mutant was amazing with Omega Red and okay with other champions (could always bring Colossus as well cuz he's bleed immune). The skill and tech nodes kinda missed the mark but at least 2/3 of the fun nodes were good.

I think people are too focused on the rewards (which need improvement) than the difficulty itself. The difficulty is fair. The health pools are Act 6 like, which is what everyone wanted before cav difficulty was released. But now, suddenly, people are complaining about the health pools. Well guess what, we also have these cool new class-specific nodes in each quest that increase a champion's damage so that those fights can end faster. There's no excuse about the health pools, they're very fair.

I don't think enough people are applauding Kabam's work in making cav difficulty both fun and challenging. Seatin called it a massive fail, and I'm gonna have to disagree big time. Seatin and most other players said they wanted both fun and challenging nodes in future content, and Kabam did just that. Seatin said that it was too tedious, but he 100% explored it all in 2 days, which took 8 hours. Of course it would be tedious for him. The "correct" way to play event quests is to do 1-2 paths a day and space it throughout the entire month, not do it all on release. Now, with Seatin being a youtuber and all, I understand why he did it all on the first 2 days and I appreciate it as he was able to do all the paths and show us an example of how to beat those paths. But saying it's tedious isn't an excuse to call Cav difficulty a massive fail.

Closing thoughts: I think Cav difficulty is actually a positive step for MCOC. Bar the rewards, which need to be bumped up a bit (6 star shards from 5000 to 7500 and a bit more T2A imo, could be other changes), I think Kabam nailed the node design down. Even that Apocalypse fight was fun because if you intercepted (which requires skill), you benefit with a massive 200% attack increase for 5 seconds. For every challenge, there was a benefit that required skill to complete. I think you're fooling yourself if you say it's a massive fail because it isn't. It includes fun node designs and incorporates those with challenging node designs to keep you interested. Everyone was complaining that Uncollected EQ was too easy for the past year or so and when Cav difficulty came out, it was either too hard or too tedious for people. Don't be a flip flop. If you think Cav difficulty is too hard, don't do it. If you think it's too tedious, don't do it. Do you really want the future of MCOC to be rewards handed to you on a plate with little work required? I sure don't. I want to work for those rewards and have fun while doing that. And Cav difficulty has done just that for me, although I would like a bit of a rewards buff, as I said earlier. Overall, Cavalier difficulty has been a fun, permanent addition to the game to keep you enticed and on your toes.

Leave your thoughts below. I'd love to discuss.
This discussion has been closed.