**KNOWN ISSUE**
An unknown error has resulted in Grandmaster Gauntlet progress being reset for a portion of our playerbase. As a result, we will be temporarily removing the Grandmaster Gauntlet as a playable mode. The mode will be reinstated when the team has resolved the issues.
**KNOWN ISSUE**
There appears to be a bug causing missing VFX (visual effects) for a number of elements including traps, phasing and some blocking animations.
The team is aware and looking into the cause of the issue.
Hear me out... Cable > Domino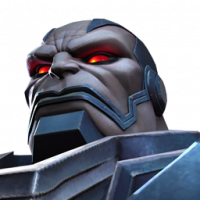 KDSuperFlash10
Posts: 5,869
★★★★★
Cable is now insane, as you may have seen from the CCP videos! He can stack tons of degens (10+) if you play aggressive and deal serious amounts of damage. He has reached Omega Red levels of degeneration damage. He can finish Act 6.4 fights in like 25 hits, as demonstrated in BG's video.

Now let's look at Domino. She's a great champion. She's seen as a high damage champion. She's typically seen as a heavy spamming champion, but she requires 2 slots on her team for that. And her incinerate damage is all RNG based. You ideally need to crit on at least 1, if not both, of the hits of the heavy attack in order to inflict a powerful incinerate. Cable only requires 1 extra slot in the team, AND his damage is not RNG based, it is power based. So as long as you heavy spam, get the opponent to an sp1, make them throw it, heavy spam, repeat, your damage will be INSANE! Cable has the potential to be one of the most potent DOT champions in the entire game with this new synergy. In addition, no one is immune to degeneration, but quite a lot of champs are either immune or resistant to incinerate, or energy resistant (incinerate deals less or powers up their abilities like CMM and Bishop). Finally, Cable's degeneration is a WHOPPING 15 SECONDS, while Domino's incinerate is a meager 2 second incinerate (+1 second with Masacre synergy).

To all of you Domino simps, I am sorry for this, but I must be the one to deliver the truth. Cable is now a better champion than Domino. To Kabam, thank you for making all sig 80 Cable owners happy.

Hope this helps.