Black Widow (Clairevoyant) Appreciation Post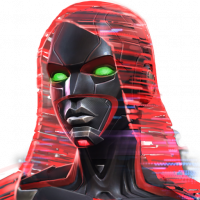 Kill_Grey
Posts: 8,666
★★★★★
You might consider me a little bit crazy for creating this thread due to some others I've participated in and/or created recently, lol. But I feel it's the perfect time to create this one because it's been exactly one year since this amazing character was released!

Top of her class, stands tall among all the characters in the game.
One of the best at what she does, boasting loads of utility all in one package. Triple, and selectable immunities. Expert buff control that bypasses all forms of nullify or stagger resistance. Unparalleled regeneration and sustainability not segregated by RNG. One of the best power controllers (one of the only ones, as a matter of fact). Great burst damage with her special 2 in the right phase. Customizable utility putting you in absolute control of the fight, a champ that well deserves that tag. In addition, she's one of the only mystics that isn't too reliant on mystic dispersion, allowing you to allocate your points elsewhere(you should know where I'm going...😉).

And of course, one of her strongest points, her suicides friendliness. Definitely a top 3 champ for running suicides with (probably behind Omega red and maybe Ghost). A champ that makes running that mastery group worthwhile even if she's your only suicides friendly one.

Overall, I'd give this Champ a perfect 10/10 in all aspects of the game. Causes problems on Flow. Makes a good amount of act 6 a walk in the park. THE best champ for questing in my opinion, Regen your way through the path, and finish it laughing with a full yellow bar. AQ is simply a joke with her, probably the champ that can do the most amount of paths across all the maps (I'm not even going to start listing, because there are simply too many, an almost inexhaustible list). She's a top option for almost all nodes and/or fights that exist currently. Turns the opponent's immunities to her advantage. The champ that makes fights with class disadvantage a comedy show (along with Magneto). Probably has zero weak matchups (or at least, the least amount among other champs). And so many other things I could say about Claire, that would take me another 5 hours to write, and still leave me with more to say in that regard.


Claire is a powerhouse of a champ, a woman of power, a goddess of utility, an annihilator of content. I love my 5* Claire, and she's put in MASSIVE work for me.

It's getting late where I am, so I'mma stop here. I'm pretty sure you guys would have a lot to say, assuming this thread does get attention.

This is all about Claire, cuz I know some people might come in here with their Doom>Claire talk, lol. Please keep the language clean, and don't do too much champ-champ comparison, as that could spark a lot of argument. You're free to do so, but at least in little doses.

So...what do like about Claire?