Earlier today, there was an issue where Summoners that logged on shortly after the Login Calendar switched over for the day didn't receive the Cosmic Ghost Rider login crystal. We've fixed the issue for players receiving the crystal now but will have to collect data and send out the crystal to all players that didn't receive it next week. We apologize for this inconvenience and look forward to making it right for you all.
15k+ Crits from a r3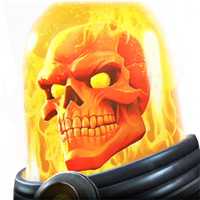 Rouger4
Posts: 615
★★★
Legacy said he couldn't think of other r3s that can dish out 15k on basic attacks. So for fun, I'll try to think of 5.
Corvus glaive : 13k
( even Corvus can't match this number.)
So........ we have to think outside the box and look into more unnoticed characters
thing:20k+
Invisible woman with a lot of force field strength on sp2 : infinite
Argon with fury: 40k
Cosmic ghost rider: 50k, but without boosts, at least 25-40k
Gamora : infinite
Hela : infinite
Some of these are impractical or only for a period of time, but it was just for fun.