Summoners, we recently encountered an issue with the Alliance Quest Setup Phase Starting Timer that may cause the Setup Phase Starting Timer to display erroneous information, though we are working on a fix for it as quickly as possible. Additionally, if the Setup Phase does not let you plan your days in advance, you will be able to once the Event officially begins on the Alliance Quest Start date.

For clarity, the next Alliance Quest Enlistment Phase will begin on December 5 at 20:00 UTC, regardless of what the in-game timers display.

The next Alliance Quest Start will be on December 6 at 20:00 UTC. This is when Summoners should be able to enter each Map.

Thank you for your patience and understanding as we work to resolve this issue.
Karnak is the 3rd best Skill Champ and it's not even close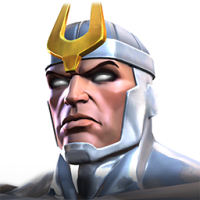 ThatGuyYouSaw235
Posts: 2,483
★★★★★
His spotlight is out and I was just smiling all through and thanking God I own him.
He can reduce debuff duration, de facto guaranteed crits, ignore evade and reduce AAR for the whole fight if played right, counters evade and champions with abilities to reduce (spoiler: all of them) (bye bye champions with abilities) , a simple playstyle and quite possibly the best SP1 in the game (my man is so cool that he doesn't even need more than one hit and gives the other champion a window to strike out of mercy), and in case you missed it you can get your de facto guaranteed crits (you have yo weave in breathing), pretty solid imo.
It's hard for him not to be in beyond god tier, pff Corvus? nah nah, Hit-Monkey? Gesundheit, Groot? bah humbug.

Karnak is the 3rd best skill champion behind Karnak 2 and Karnak 3 no questions asked.