**KNOWN ISSUE**
An unknown error has resulted in Grandmaster Gauntlet progress being reset for a portion of our playerbase. As a result, we will be temporarily removing the Grandmaster Gauntlet as a playable mode. The mode will be reinstated when the team has resolved the issues.
**FIXED**
There appears to be a bug causing missing VFX (visual effects) for a number of elements including traps, phasing and some blocking animations.
THIS ISSUE WAS FIXED ON SEPT 26
MY current 6 star Roster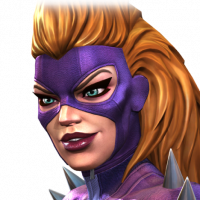 Jcross_40
Posts: 63
★
I have 69 six star champs, and only 6 that are worth a s###. I reached my breaking point today when I opened a featured and pulled vision and then a basic from which I duped Karnak. I'm beyond livid. 92% of my 6 star roster is trash. To claim that this is "fair and balanced" is bulls###. Behold my s### pile. Thanks Kabam for pushing me to the brink of retirement.