COMPLETED ACT 6!!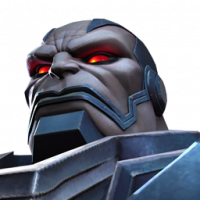 Dragfire1760
Posts: 148
★
The entirety of 6.4 was actually pretty fun, mostly cause I could cheese all the bosses, only that annihilus mini-boss caused some problems, other than that even the grandmaster took only like 200 units worth of revives so really happy! I chose cosmic from the T5CC selector since I already had like 10k fragments, and even tho I have 0 cosmic 6 stars I was hoping for someone good from the openings
Crystals:
Cavalier:Eh wasn't expecting too much anyway
5*: went for 2 featureds, disappointed since I got a sig 80 sentinel dupe and a new p2099, who I already had a six star. Forgot to ss
Nexus:
Went for invisible woman, since I already have killmonger as a 6*, but I don't enjoy playing her so she's just gonna benchwarm
6* featured: I had 25k shards so I went for one featured: I hoped so badly for a cosmic and hey! I got a cosmic!
:') I'm fine
6* basic:
She was kind of a saving grace, but I'm not skilled enough to play her and I have human torch 6*R2, quake r5 and spidergwen r4, so she's probably just gonna sit at rank 1 for a while
The rewards were pretty underwhelming, but I'm hoping this just means I can get a 5* ghost after next month's EQ rewards and this was just to push the bad luck away.... But the grandmaster fight especially was really fun, 10/10 will do it again