7.1 is one of the worst pieces of content ever created.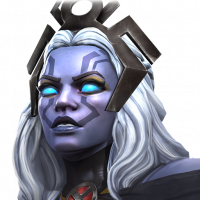 Unio77
Posts: 1,922
★★★★★
And I'm not even
lying
First of all let's start off with the main point:
It's just so damn easy
For a piece of content that comes after act 6 act 7.1 felt like I was doing act 5 again. The attack values are so low that I can take three special 3s to the face and still be topped up enough to continue the whole path with 1 champ. I literally didn't have to improve/extend myself to beat this content. The benefits we gain from the nodes make every fight end in like 30 seconds and this is with a rank 4, stuff like this shouldn't occur in the latest and end version of content in game. This is literally occurring path after path. Just felt like I was exploring act 3 again with my 5 stars, not like I was exploring a chapter in act 7.
Secondly the node combos are stuff straight out of "let's make everything easy for you land."
Nothing and I mean nothing was actually challenging. My only true challenge was having to deal with lag and random phone calls.
Thirdly the concept of switching out 1 champ before the boss is quite good but having that champ that is swapped in start at 100% health is basically spoon-feeding level of easy. Instead of making us pay the consequences of our mistakes by having the swapped in champ start at the same health as the swapped out champ it just makes 7.1 feel that much more like Immnit facing end game content but instead a side event.
"Fourth-ly" for a big majority of the chapter I was using the same team over and over. The depths of my roster were not tested and I found path after path so repetitive as I would be using ghost, Doom, Cap IW etc all the time. For content that is end game that shouldn't be a thing. I should be digging into the bottom of my roster and think who I should be using, I shouldn't have to just press start Quest for almost every path and not swap champs out and dig into my roster to counter the path.
SIKE
7.1 was absolutely amazing. I actually enjoyed almost every path and nothing felt like a chore. I didn't need to have the best counter and most of the stuff could be done even without a counter and I wouldn't have to drop a whole load of units to do the path. The mix of difficulty and bring rewarded felt quite good and nothing took forever to complete.

I just want to tell kabam that they should continue forward like this and strive to make content this fun and exciting.


Feel free to leave a comment below and wether you agree or agree.