Due to an issue with Alliance War Defense Tactic, we will be ending this Alliance War Season effective immediately. This current War will not count towards your Alliance War Season Score. War Season eligibility rewards will be reduced to 2 Wars in the Season.

We understand that this is not a perfect solution, but without the ability to remove or freeze the War Rating quick enough, the rest of our Alliance War season would be compromised.

This war will remain active, and in-game, you will still see the season until tomorrow. After we end the season tomorrow, we will be taking some time to collect data and remove the changes to the Alliance War Season score. Once that is complete, we will be able to send out Alliance War Season rewards.

We apologize for the inconvenience.
Announcing: The Champions of Valhalla Event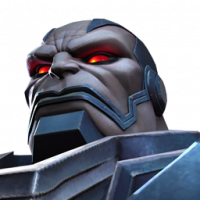 Kabam Miike
Posts: 6,926
Administrator ›
Summoners!

The Grandmaster has set up a new tournament in The Battlerealm, to find the most worthy among all of his Summoners! In doing so, he's bringing a lot of new things to the contest that you'll want to know about!

The Champions of Valhalla Event begins November 1st! This event is full of new and exciting events, and details, including a new Leaderboard, a new type of Solo Event and a whole new feature called Bounty Missions!

But first, let's dig into the biggest part of the event, a new temporary currency called Valor!

Win Valor to prove your Worth!

Valor is a new limited-time currency you can earn throughout the Champions of Valhalla event. It can be earned in four main areas:
The "Gods of the Arena" Event Quest (The November Event Quest)
- November 4-Star Featured Hero Arenas
- New Vanquishing Blow Solo Events
- New Bounty Mission - Test of Valor

You can accumulate Valor, and then use it in the limited time Valor Store, where Summoners will be able to purchase items like 4-Star Hero Crystals, 5-Star Hero Crystal Shards, Tier 4 Class Catalyst Crystals, and Tier 2 Alpha Fragments! (See below for all the details!)

But Valor has an even more important role to play… Collect Valor to prove yourself as the true Champion of Valhalla!

Prove your Worth on the Valor Leaderboard!

In addition to being able to spend Valor in the Valor Store, it will also be cumulatively tracked on the Valor Leaderboard! Don't worry, this is a cumulative total, so if tracks all of the Valor you have every received, so it doesn't matter if you spend it!

Place yourself in the Top 10 Summoners on the Valor Leaderboard, and earn a 5-Star Thor (Ragnarok) after the event ends. The #1 Summoner will earn a bonus 5-Star Thor (Ragnarok)!

1st - 2x 5-Star Thor (Ragnarok)
2nd-10th - 1x 5-Star Thor (Ragnarok)
11 - 1,000 - 1x 4-Star Thor (Ragnarok)
1,001 - 10,000 - 1x 3-Star Thor (Ragnarok)
Top 10,000 (all) - "Champion of Valhalla" Rare Title

Prizes will be awarded within two weeks of the event ending - as we need to review winners.

Do note, Summoners, we will be keeping a close eye on Valor and the ways and means Summoners are earning it. Use of exploits or nefarious means to earn more Valor than is normally possible, or more than one Test of Valor every 6 hours will be looked on unfavorably by the Grandmaster. Possible actions include loss of Valor, removal from the Valor Leaderboard or worse. Let's not go that route!

What is a Vanquishing Blow?

Vanquishing Blow Solo Events are a brand new event in the Contest that award points for finishing off your Opponent in a specific way! A Vanquishing Blow is the final type of damage dealt that reduces your opponent to zero health.

For example, there may be an event for "Medium Hit", where the killing blow must be a Medium Attack. There could be an event for "Special 2", where the killing blow must be from a Special 2 attack. There could also be one for "Using Bleed", where the opponent KO must come from Bleed damage. This doesn't mean hit them while they're bleeding, it means that the bleed must be the one to do it.

Vanquishing Blow Solo Events will be available November 1st, 5PM PDT until December 5th, 4PM PST. As with all 24 hour Solo Events there is a short downtime between each event - so check your Solo Events list to check out all the details!

Bounty Missions and Tests of Valor!

Bounty Missions are brand new feature that you may see come back around the Contest in the future. It's a pretty big feature, so we're adding a new post about it right here!

Prepare yourself Summoners! The Champions of Valhalla event runs from November 1st until December 6th and you'll need to be on the latest version of Marvel Contest of Champions to earn your Valor!