Earlier today, there was an issue where Summoners that logged on shortly after the Login Calendar switched over for the day didn't receive the Cosmic Ghost Rider login crystal. We've fixed the issue for players receiving the crystal now but will have to collect data and send out the crystal to all players that didn't receive it next week. We apologize for this inconvenience and look forward to making it right for you all.
Red Hulk's immunities are kinda bugged.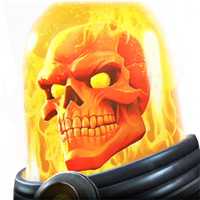 Thanos1149
Posts: 1,093
★★★
Don't ask me why I was using AA against him but yeah. The thing about him is that whenever an incinerate or poison gets inflicted on him, he removes it half a second later. I'm sure many have noticed this but no one's bother to report because he remove it faster than the debuff can deal damage to him. However in situations like this, it can become a problem.
As you can see, Red Hulk has a neurotoxin on him which shouldn't be possible.