State of the Game - Sept 2021
Siliyo
Posts: 954
★★★★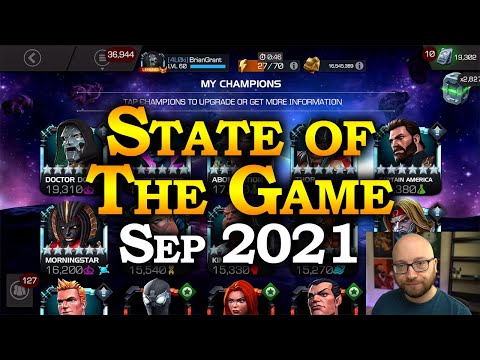 As you can see, Brian Grant of ContestChampion.com has made a video regarding the state of the game, a lot of points being made I agree on. I like to believe what started this was BrutalDLX's decision to play that game in a more casual way instead of retirement.
There are things that I'd like to address and I hope you guys can provide your thoughts toward the State of MCOC in September 2021. This coming December will officially bring the game to its 7th year. And while having that as a milestone is great, it may shock you that some things have never changed within those seven years.
Alliance Quest
- I agree with BG on this where although AQ can be stale and monotonous because it's the same thing every week, it's good to have something as stable as AQ where you log in for a few minutes, fight, earn rewards, job is done. This can be particularly frustrating for people who work full time jobs and cannot be bothered by being forced to take a bathroom break for AQ so I do hope that changes in the future.
Alliance War
- There was a Dev Note describing how AW would be overhauled from the ground up. However, all we've seen are Defense Tactics and Attack Tactics being added, which provided no meaningful value to the AW experience except to cause more frustration. Although this overhaul of AW may still be in development, all we ask is communication - how is the development process? Do you like it as it is? Do you think we would like it? etc. AW Seasons as it is is not enough.
Champion Acquisition
- BrutalDLX said it best, I believe, when he said champion acquisition has become too costly and too time consuming. For those arena grinders, having to deal with bots is another issue.
Not only that, but having the player base wait for months just for the champion to be added to the basic pool is ridiculous. On top of that, we have the RNG factor to consider too. I'm not saying that RNG should be removed or how these crystals operate should change, I am asking for an addition to these so I can feel like I'm working towards something. Whether it takes 2-3 months, if I have to log in every day or every week (to work towards this goal) so I can be able to pick up the champion I desire - I would seriously love and appreciate that.
These are some of my thoughts. I'm sure there are other concerns such as Content (Event Quest, Side Quest, Variants, Everest Content, Story Content, etc.) So I would like to know your thoughts about the State of MCOC in 2021.