High prestige survey was badly thought out.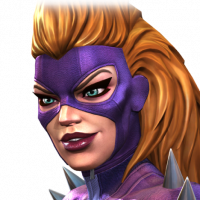 Rav514
Posts: 30
★
As some of you are already aware; Kaboom set out a survey asking us what you think about Content. I think the survey missed the point because it just asked us which contact do you like better? Obviously that's a summary.

This survey is obviously designed to form everybody's answers into a single distilled statement like "act six sucks and do stuff closer to act 7". Or whatever short form answer comes from it.

The real question should've been why do you like specific content over other content?

So I wanted to give people an opportunity to positively state what they do and don't like about the game's content forms.

This is not an opportunity to bash Kabam, they were very hard to provide us a game that we all enjoy (I hope) and not everything they do is going to be perfect but it was good for them to ask but sometimes you have to ask the right question.

So below I'm gonna paste my long response to Kabam of what they should consider and I hope others do the same positively. Maybe some good ideas for content structure can come from this discussion.

Thank you all.


This survey does not accurately ask the proper questions. The issue with requiring skill use to complete content is due to the false inputs and buggy state of the game it makes depending on skill almost impossible. How can if be fun to use skill If the game bugs out on me. I cant tell you how many times my characters dash the wrong way or throw the wrong attack; or i just stop blocking in the middle of a being acted. By this i mean i block the first 2 hits and the third somehow gets through. This has been an ongoing problem for well over 2 yrs even if its only been a focus for the past 9 months or so. How is someone supposed to "depend on skill" in that situation?

Furthermore, longer permanent contact is good and so is the shorter however the fights have to feel beatable or clearly advertise that they are not supposed to be beatable in one go. This is why abyss is bad. You have content that is directly designed to be a resource sink but not advertised in such away. Anytime you have content that turns into a resource sink it makes you feel like a failure unless it was clearly upfront that you are supposed to revive 1 million times. Since the game is relatively stingy with (free) revives, this means that the entire purpose of the this content is to drain units from people. That's bad content. Act 6 is worse in this manner. At least abyss has high life totals that Dissuade most people; act 6 does not. This makes it a trap for a-lot of people who then have to abandon the run or spend unit. Most people don't want to save up resources for months just expend them all and need more.

Monthly event quests and act 7 is much more enjoyable content IMO because while you may spend potions, revives, or units; you usually don't feel like it was DESIGNED for you to do so.

This is even more annoying when you have to use 3 or 4 different potions like your trying to assemble Voltron. (Power rangers for the kids). I think i just dated myself. AND even different potions if im in AQ or WAR. So now the shiny New champ i just spent all my time a resources to acquire and rank up wasn't good enough and i have to spend more.

Much of this just feels like Kabam trying to get money out of our wallets with giving us anything. When there are packages with the unit offers at least it feels like you getting something other than "pay extra for the privilege of playing the game".

Some of these things will fix themselves over time. As higher rank champs become available act 6 and the abyss will become much easier. Carina's challenges will always be a resource dump for most ppl and thats ok.

Coming out with better potions just started and thats step in the proper direction.

But stop creating the next "test you skill" event unless you are limiting item use. Its not a "skill event", its a "test your wallet event".

If you want a true "test your skill event"
Try this.

6 fights. One 2*; 3*; 4* 5* 6* and 1 boss.

The attacker has to match the star rank of the defender. (Except for the boss)So if the defender is a 2* you have to attack with a 2*.

Now here is the twist, the defenders are chosen at random, blind, which some random buffs. There should be some set buff also, like + attack and health.

And you only start with ONE ITEM USE but you get 1 each time you defeat a defender.

Give a prize for defeating a defender and a way to eject and keep the prize if you don't want to go on. Prolly a random potion to start so farming isn't to big a thing.

That i want to see some youtubers beat. And that is content that Kabam is trying to test me, not milk me.