My failed EOP Carina Machines run - any suggestions?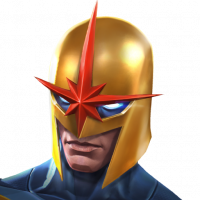 altavista
Posts: 935
★★★★
After saving up revives and health potions, I attempted a run at EOP to try and complete the Machine/Robot objective.

My plan was to take the Right path (since Terrax and Dragonman on the left side scare me more).
Team: Herc + Omega Sentinel + Ultron.

Herc did alright against Dorm, Bishop, The Overseer. Took me 2-3 revives each fight, which seemed reasonable. Crossbones sucked up 7 revives; Crossbones AI behaved less consistently than I have seen him behave against Herc on youtube videos. With the last 20%, I ended up using Omega Sentinel instead - slow fight, but having to managed only the Bane timer as opposed to the Bane Timer plus Immortality with Herc made it less stressful.

I swapped out Herc for Warlock, and then just ran into Kraven. Each of my three champions only managed to take off 3-5% health apiece. With me estimating that it was be too costly to grind out a KO against Kraven, and do the remaining fights (especially Ikaris), I decided to abort instead of sink more resources in.

My questions:
1. Should I just wait till I get a Dragonman before attempting this objective again?
2. Should I swap out Ultron or Warlock for a different robot? I would mainly need some for Kraven and Ikaris.
3. Should I try the other path? I don't have a Nebula.