Anyone else finding Quicksilver to ignore your blocks in Battlegrounds?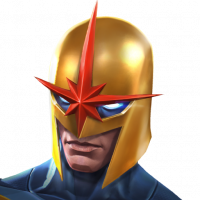 altavista
Posts: 927
★★★★
Quicksilver is becoming an instant BG ban for me cause he seemingly cheats.
I have encountered Quicksilver outside of BGs, and he is an upstanding guy, and takes rejection like a champ.
But when I encounter him in Battlegrounds, he quickly gets very handsy.


This is a joke, but in more obvious terms - I can fight QS as normal in regular content (EQ, arenas, etc), but over the past few days, whenever I try and fight him in a Battlegrounds round, he tends to ignore my blocks completely. This is because, I guess, he moves faster than my block input is registering in battlegrounds?

It is not 'git gud' since I can handle QS as a defender in other content. It is not just my phone, since again, I don't see any slowdowns with QS as an attacker or defender in other content. It is not just BGs, since every other round and other matches with other characters work fine.

Anyone else encountering this? Is there just this weird QS + BG + latency effect going on, or is this just a one-off occurrence for me?