5-Star Featured Crystal Change Discussion Thread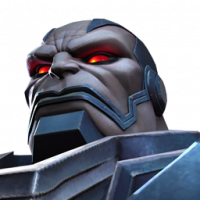 Kabam Miike
Posts: 6,913
Administrator ›
Summoners!

We've just released some more information on the future of the 5-Star Featured Crystal here: https://forums.playcontestofchampions.com/en/discussion/43300/upcoming-changes-to-5-star-featured-crystal

We know you've got questions, and this is the place to ask and discuss!

FAQ

Will you announce the pool of 18 each time it changes?
We do plan on sharing the list every time the crystal is updated.

Can you buy the 5 star featured crystal with units or only shards?
This crystal is replacing the currently available 15,000 Shard Featured Hero Crystals.

So does it means that if a new champ comes to the Battle Realm we won't be able to get them as a 5* right away?
You will still be able to get them in the Grandmaster Featured Crystal, but they will not be available in a featured 5-Star Hero Shard Crystal until they are added to this new Crystal. So, this might mean having to wait a little while to get some Champions, but it also gives you a shot at 6 New Champions at a time, as well as a smaller Basic pool.
Post edited by Kabam Miike on