The "My Little Symbiote" Event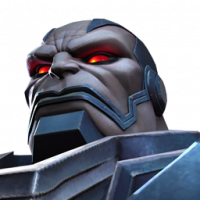 Kabam Miike
Posts: 6,649
Administrator ›
Free To A Good Home: Your very own Symbioid to raise, train, and send into battle! Well, it's not your own… technically.

A group of intelligent Symbioids have been found in the Battlerealm! Unlike their more feral and brutish brethren, these Symbioids have developed a unique Universal class, and will obey the Summoner! You are being entrusted with the responsibility to care for one of these Symbioids (temporarily), and to harness their strength to overtake a new, even more challenging level of Difficulty that will make an appearance in the Contest this month!

Introducing to you, your own Summoned Symbiote!

That's right Summoner, for a limited time only, we're giving you all your own Symbioid! On October 2nd at 10:00 am PST, you'll receive an in-game message that contains a 1-Star Summoned Symbioid! He may not sound tough, but with some love and care, this Symbioid will give you the power to take on some of the hardest temporary content that The Battlerealm has ever seen!

Throughout the Month, you'll be earning Klyntar Katalysts and Strands. You'll find the Katalysts in the new Blood and Venom: Symbiomancer Event Quest, and you'll find Strands in the Blood and Venom: Symbiomancer Event Quest, and the special Occult Lab Event Quests. More Details on both of these to come soon!

Regular ISO-8 and Catalysts have no effect on the Symbioids, but you can use the Klyntar Katalysts to significantly boost the power of your Summoned Symbioid, But that's not all! Utilize the Strands you collect to purchase Symbiotic Enhancements! Symbiotic Enhancements are Boosts that can only be applied to the Summoned Symbioid, and will only work in the Event Quest!

Utilizing Katalysts and Symbiotic Enhancements as best you can, the Summoned Symbioid may just be what you need to take on a Difficulty Level higher than you are used to! Speaking of which...

Another Level of Challenge!

Once you and your guest have had some time to become accustomed to each other, you'll be given the opportunity to take on a new, more challenging Difficulty Level of the Blood and Venom: Symbiomancer Event Quest!

Introducing: Symbiote Difficulty! Symbiote Difficulty is a brand new Difficulty Level that will become available on October 17th! This difficulty level goes beyond what you're used to in Master or Uncollected Difficulty level, but your new Symbiote friend may be up to the task if you've taken the time to fully invest in Klyntar Katalysts and Strands!

Heed our warning, Summoners! This is not going to be Easy. Many will try, and many will fail!

Do not get attached to the Symbioid!

While you might find yourself getting attached to your guest, the Symbioid is not yours to keep! Due to their unique physiology, the Symbioid cannot stay within the Battlerealm forever! When the event ends, you'll be able to sell your Summoned Symbioid and receive a keepsake Title in return! If you choose to hold out, the Symbioid is likely to wander off one day, never to be seen again!

Quest Difficulties this Month

More information to come soon, but this month will feature an "Epic Difficulty" in place of the Uncollected Difficulty, and will be open to players Level 40 and above. You do not have to be Uncollected to take part in this Difficulty Level. This is only for this month. Master Difficulty will also not require a Key to enter.

Klyntar Katalysts and your Symbioid

Your Summoned Symbioid can get quite Powerful through the use of Klyntar Katalysts! Unlike most 1 Star Champions, the Summoned Symbioid has the ability to go up to Rank 5. You'll want to get them to as high a Rank as you can Manage, and might want to use them to take on Content that you're not usually comfortable with.

100% Exploration of Epic Difficulty will give you enough Katalysts to bring the Summoned Symbioid to Rank 5. At Rank 5, the Summoned Symbioid has roughly 30% higher Stats than a 6-Star Champion, at Rank 2 Level 35! And that's not even counting the Symbiotic Enhancements...

Symbiotic Enhancements

As we mentioned above, Symbiotic Enhancements are Boosts that can only be applied to the Summoned Symbiod, and only have an effect in the Blood and Venom: Symbiomancer Event Quest. These Enhancements are quite powerful, so use them when you're in a tight spot, or when taking on content more difficult than you're used to!




Beware of Alliance Wars!

The Summoned Symbioid does not like Alliance Wars, and Alliance Wars do not like him! Throughout the length of the My Little Symbiote Event, Alliance Wars will feature a Global Buff that will deter Summoners from bringing their Symbioid in as either an Attacker, or Defender. The Summoned Symbioid only like Quests!

Get ready to welcome this adorable little critter into your home next month!

EDIT: The Costs for the Symbiotic Enhancements was incorrect. We've corrected the prices listed above to reflect costs in game.
Post edited by Kabam Miike on
This discussion has been closed.