another two features, another two Venom and Duck dupes. What kind of odds are those?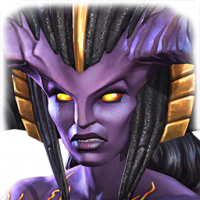 XxAeriosxX
Posts: 22
★
This round of features are totally rigged. or I'm just the luckies player Kabam picks out. So out of 10 features, I got 7 dupes, and all the garbage dupes, Daredevil netflix, Venomx2, Howard pathetic Duck x2 e.g.. 6 features out of 24, the odds of my not getting anything is some kind jojo you guys been doing.

I also heard many others saying how bad this features crystals are. Kabam, Please listen to our feedback and look into your game design.

And I was warned by Mod saying this is not a place for ranting. What kind of a place a forum would be? I didn't use any profaned language and I also suggested this feature in your game is not fair to most of the players and many are in agreement with me.
So instead of trying to stop people from saying things, why don't you work on your game and make it better for all of us?