Has anyone had a 5* champ disappear from there account?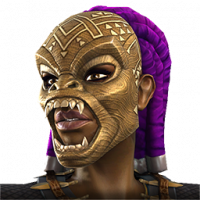 Jmd5429
Posts: 16
★
If so I'd like to hear about it. It happened to me and got no help whatsoever from support. My 5* duped King Groot came up missing sometime since 3/25/19 and now. I had screenshots of my 5* king groot duped and leveled to 3/5. I sent support my screenshots of the champion while logged into my account. I have screenshots of discussion of my king groot to my fellow team mates on our line app back from 3/25/19. It seems like nothing matters to kabam unless they can see it in there computer system. A computer is flawless and there gamers and screenshots are not flawless. Then why waist our time asking if we have pictures to help the case. I recently offered to send them my phone by overnight mail and they could see my chat messages in my line app talking about King Groot being my next defender in war after I got him to level 4/5 and see all the screenshots I have of the game and champions I have accumulated. Never heard a word besides sorry our computer shows no evidence your 5* king groot existed in your account. I have the proof in black and white. It's more of a headache to even try to prove your right. Especially with evidence in black and white point blank. If there's a flaw in there computer system I feel they need to be held responsible and find the problem and fix it.
This discussion has been closed.