Community Choice Boss Rush Challenge 2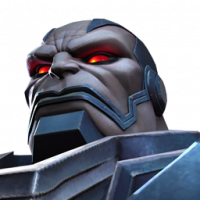 Kabam Miike
Posts: 6,251
Administrator ›
Summoners!

Are you ready to take on the next iteration of the Community Choice Boss Rush? We asked some of the Contest of Champions Content Creators and Community Contributors to choose 6 encounters for a brand new Boss Rush Challenge.

The Creators chose a Champion and a couple buffs. They then received some feedback on their encounters, adjusted their encounter, tested their fight, adjusted again, and are now ready to share their work with you! Some chose to go for interesting combinations that rewards aggressive play, while others took it upon themselves to come up with something that requires deeper thought!

The order of the fights, health pools, etc. were decided by our Quest Design team, and not by the creators.

Boss Rush Challenges are always different, and the difficulty level will vary from challenge to challenge, but they are still not meant to be conquered by everyone. They are meant to be difficult, and are meant to challenge your knowledge of your Champion roster, and your skill! Many will try, and many will fail!

The Fights you'll be Facing:

Symbiote Supreme, chosen and buffed by Lagacy - Watch his video here.
Quake, chosen and buffed by Dorky Diggedy Dave - Watch his video here.
Invisible Woman, chosen and buffed by DNA3000 - Read his Writeup on the encounter here.
Domino, chosen and buffed by The UMCOC Podcast
King Groot, chosen and buffed by Rich The Man - Watch his video here.
Taskmaster, chosen and buffed by Omega and Starfighter

The Rewards:

For completing the Boss Rush, you will earn:

10,000x 5-Star Shards
1 of 6 Titles, crafted to celebrate each of our contributors (You can earn this reward multiple times, so completing it 6 times will let you collect all of the Titles)
- The Diggedy Dork
- The Unofficial
- The Mega Star
- The Invisible DNA
- The Supreme Lagacy
- The Man

The Boss Rush will be available from Sept 18th at 10am PT - October 2nd at 10am PT. We'll be updating this thread over the weeks with content the participants create on their fights, so if you're having trouble on a certain fight, make sure that you come back to check out some tips and tricks!

NOTE: Any hostility, or rude behaviour towards any of the participants will not be tolerated, and can result in actions taken against your account.
Post edited by Kabam Miike on