Beste Inhalte
I saw that these 2 fights were giving people some trouble and wanted to share my favorite counter for them and my favorite champ in the game, Gully99. I think alot of people see her as an LOL and Variant 3 champ but i use her anywhere where the healthpools are 100k or more and she does very well. If the healthpools are less its hard not to kill them before you can reach a special 3 to carry your combo over. There is a way to mitigate this somewhat and thats if you use suicides and run the robot uprising synergy you will get 70% of a bar of power to start the fight with and this brings down her healthpool requirements enough to use her in fights with lesser healthpools. Also ever since i took her to r5 shes been unbelievable for most every UC/side quest boss fight. Just wanted to show her some love on the forums and that she is more then just an LOL champ. If its a boss fight then chances are shes gonna be a good answer for it.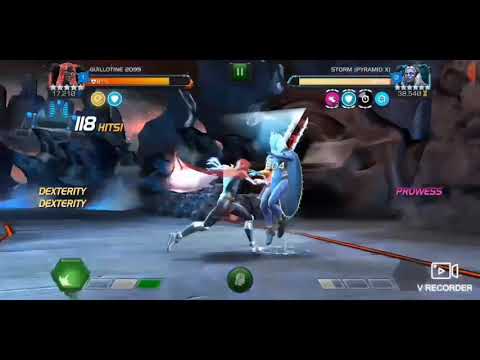 Wanted to share a recent experience with y'all.
So I pulled Doctor Doom from the featured egg crystal (🎉Yay!🎊) then I immediately took him to rank 4 during the solo level up event (love those 25 units) and used a 5* class AG along with a few dozen sig stones.
Then I opened a couple of 5* basic crystals on the following day and (Voila!) who do I get?
Not complaining at all. I'd love to get this dude up to max sig 💪💪💪 as soon as possible. I couldn't have known that this would happen so I don't feel sorry for using my AG. 🤷‍♂️ Still very happy that I pulled him at all. 👍
Anyone else out there who had a similar experience? Cheers 🍻
Hieitaku
Just opened my game and saw this mail pop up. Does anyone know what it says? My language is set to german, so i don't know why that message was sent to me, especially in that language.