Summoners, there was an issue with Alliance War matchmaking today preventing Alliances from being able to match with others. As a result, this upcoming war will be cancelled. There should be no detrimental effect to any Alliance's Season performance, and we will be reducing the Alliance War Season Rewards Participation minimum to 4 Wars. We apologize for this inconvenience.
Announcing Event Quest: Have You Seen This Dog?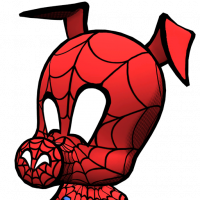 Kabam Doot
Posts: 91
Moderator ›
WHO'S A GOOD BOY?
Summoners! We have a serious issue on our hands. The Inhuman royal dog Lockjaw has been stolen and replaced with a ransom note and some serious threats! While some have been known to cause mischief in the contest, it takes someone with criminally ill intent to commit a crime so cruel. The Inhumans need your help in tracking down both the lovable Lockjaw and whoever is responsible for this.
LUSCIOUS LOCKS AND NOT SO MUCH
Two new champions have joined The Contest. Her Majesty, Medusa, makes an entrance to help guide the Royal Family in these trying times. Welding 3 swords, Medusa can break even the toughest armor and can cause opponents armor to shatter. Aside from that, She can stack bleeds on the opponent and block incoming attacks with her hair. Large and in charge, Kingpin has come to the contest seeking its full potential. Kingpin can be a calm and collected crime lord, but his ability to control his anger and unleash it onto his opponents is what got him to where he is today. Kingpin has the ability acquire rage from debuffs and benefits from increased damage and power the angrier he gets.
--
Q&A
How long does this quest run for?
This quest will be starting on the 30th of August at ~10:00AM PDT and will run until September 27th at 10:00AM PDT. Those attempting Legends runs will have until September 13th at 10am PDT to 100% explore both Heroic and Master difficulties.
You must update to the new 15.0 Release to be able to see and participate in this quest.
How do I get the Legends title associated with Master Difficulty?
The Legends title and rewards will be given to the 100 players who 100% explore HEROIC AND MASTER difficulties in "Have You Seen This Dog?" the fastest. Just like recent Event Quests, this quest will take advantage of the Time Attack system we've put in place for our Monthly Quest Legends Program. This means that the players that completely explore Heroic and Master difficulty the fastest within the first 2 weeks of the event being live will win the title. More information on that can be found here: https://forums.playcontestofchampions.com/en/discussion/27/time-attack-legends-program
In addition to this distinction, these first 100 will receive the following rewards:

#1-5 - 3x Tier 4 Class Catalyst Crystal
#6-100 - 1x Tier 4 Class Catalyst Crysta

Rewards
For completing and mastering all of the Beginner quests, you earn:
4000x Premium Crystal Shards (2x Crystals)
150x Units
900x Tier 4 Generic Catalyst Fragments
2x Generic Tier 1 Catalyst
2x Generic Tier 2 Catalyst
15x Tier 3 Generic ISO
18x Tier 2 Class ISO (3/each class)
1x Slobberchops Title
For completing and mastering all of the Normal quests, you earn:
1x 3-Star Quake
5000x Premium Crystal Shards (2.5x Crystals)
2000x 3-Star Crystal Shards (1x Crystal)
150x Units
2700x Tier 4 Generic Catalyst Fragments
1x Alpha Catalyst
3x Tier 2 Generic Catalyst
5x Tier 3 Generic ISO
7x Tier 4 Generic ISO
30x Tier 2 Class ISO (5/each class)
1x Slobberchops Title
For completing and mastering all of the Heroic quests, you earn:
4000x Premium Crystal Shards (2x Crystals)
3x Premium Hero Crystals
1x 3-Star Hero Crystal
800x 4-Star Crystal Shards (40% of a Crystal)
1000x 5-Star Crystal Shards (10% of a Crystal)
150x Units
18000x Tier 4 Generic Catalyst Fragments (50% of a Catalyst)
1x Alpha Catalyst
2x Tier 3 Generic Catalyst
12x Tier 4 Generic ISO
30x Tier 3 Class ISO (5/each class)
1x Slobberchops Title
For completing and mastering all of the Master quests, you earn:
3x Premium Hero Crystals
1x 3-Star Hero Crystal
6000x 3-Star Crystal Shards (3x Crystals)
2000x 4-Star Crystal Shards (100% of a Crystal)
1500x 5-Star Crystal Shards (15% of a Crystal)
150x Units
3x Alpha Catalyst
1x Tier 4 Generic Catalyst
3600x Tier 2 Alpha Catalyst Fragments (10% of a Catalyst)
25x Tier 4 Class Catalyst Fragment Crystal
10x 4-Star Signature Stone Crystals
5x 5-Star Signature Stone Crystals
1x Inhomo Supremis Title