We Need Asbestos Man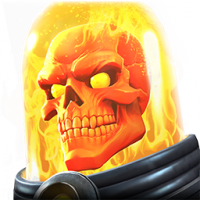 Shaanenegan
Posts: 93
★
So today I was just chatting when asbestos man came up in the conversation & I think that is needed in the game. I took the liberty of creating his abilities.
------—
PASSIVE
IMMUNE TO INCINERATE, SHOCK AND DEGEN
POISON
Asbestos Man has a 30% chance to poison the Opponent with his basic attacks and 100% with Heavy hit.
These poison Debuffs deal 1333 damage over 12 seconds. Max Stacks :5
Poison reduces health gain by 30% while it's active.
The chance to apply poison decreases by 3% per stack of poison on the opponent. Max reduction: 6%
If Asbestos Man is poisoned, he takes 0 damage for the duration of the poison & gains 3% of missing power per second until he reaches 2 bars of power. After filling two bars of power, he gains a inactive regen gaining 1% of missing health per debuff on the opponent or himself after activating his next special attack. Max heal :5% of missing health.
WHEN ATTACKED
10% chance to poison the Opponent for 666 damage over 2 seconds. This chance & its duration increases by a flat 10% for each poison on either Champion. Max : 30% & 2.4seconds.
TOXIC PRESENCE
If the opponent & Asbestos Man has 10 poison debuffs in total, Asbestos man becomes toxic for 6 seconds placing passive toxins instead of poison with same damage.
SPECIAL 1:
Asbestos Man places 5 poison debuffs during this attack dealing 67 damage over 25 seconds. This debuffs do not count towards the max poison stacks. If the opponent is immune to poison, The poisons are instead applied to Asbestos Man.
SPECIAL 2:
40% chance to Stun for 1 seconds.
This chance is increased by 5% for each poison debuff on either champion.
SPECIAL 3:
Asbestos man goes highly toxic for 12 seconds & all his active poisons on the opponent are converted to passive toxin debuffs. For the next 12 seconds, all poison on the opponent are also passive toxin debuffs.
SIGNATURE ABILITY - MAXIMUM TOXICITY:
Asbestos Man's debuff immunity extends to passive debuffs of the same kind.
The duration of Highly Toxic increases by 0.2 to 5 seconds.
-----—
Looks promising.
Post edited by Kabam Porthos on
This discussion has been closed.