Earlier today, there was an issue where Summoners that logged on shortly after the Login Calendar switched over for the day didn't receive the Cosmic Ghost Rider login crystal. We've fixed the issue for players receiving the crystal now but will have to collect data and send out the crystal to all players that didn't receive it next week. We apologize for this inconvenience and look forward to making it right for you all.
Longshot's awakened ability. Blessing or detriment?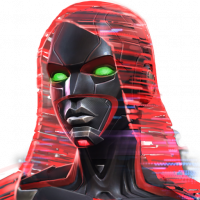 Kill_Grey
Posts: 8,671
★★★★★
Among my 6*s, Longshot is the only one I have duped. Before his dupe, I enjoyed annihilating buff heavy opponents by getting to his SP 2 and denying every single one of their buffs. The more the merrier is the norm in terms of buffs for this character similar to sym supreme and Morningstar. Champs like Howard the duck were my favorite matchups, lol.

Fast forward to a bit recently, I duped the guy. I was kinda bummed at first because I wanted a new 6*, but I became even more bummed to find out that the dupe succeeds to make him seemingly worse in his previously best matchups! Now I don't know if it's bugged, but going up against Howard who is supposed to start with 8 buffs, sometimes I'll go in to find that about 6 of the armors are removed instantaneously. What do I get from that? Only one bad karma, which seems contrary to his sig ability description. Now I'm not necessarily trying to report a bug, but I'm just trying my best to find a silver lining to this situation. I planned on using him for abyss easy path, but I'd be salty if I go up against VTD for instance and have him throw his SP 1 which supposedly generates 10 buffs for him, only to find that longshot's sig ability would actually remove most of them, and yield less damage overall in his SP 2 rotation.

Thoughts?