Due to issues affecting Alliance Wars, Alliance War Season 36 will be postponed until August 19th, 2022 and the minimum number of Wars Summoners are required to participate in to qualify for rewards will be reduced to 4.

The currently active War will not count towards the Season.
Can we agree that 6* are just gonna make all the content now alot easier for new players?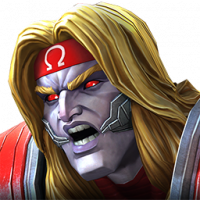 ContestOfNoobs
Posts: 1,391
★★★★
so lets say in 1 year from now...assuming those who are still playing
we are getting/farming t5b/t5c cats

but now 5* will be easier to get in 1 year from now, just like how 4* are easy to get now.

they are basically gonna transition to where 5* shard will be easy, and make newer players catch up to everyone else.
that way they can do $30 for 5* crystal one day. just like they did it with $30 for 4*

heck, yall even remember when so many people chose what class they want for a class specific 4*? can you imagine newer people and upcomers who would buy the same deal for a 5*? They can charge it at first for $100 5* crystal (makes me think about the 100$ og vision deal back in the day, or the $100 for a t4c) then slowly milk it down $80,$70,$50,$30 and daily cards aswell.

anyways imagine going through RoL,LoL with a 6* Starlord...