Banned for reasons unknown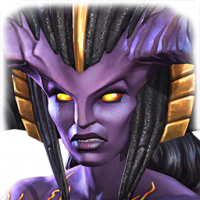 Rougeknight87
Posts: 599
★★★
After googling this subject I've been confronted with the reality that I have next to no hope of getting my account un-banned and reinstated.

I've played this game for 15 days and I was enjoying it to no end. I was starting to gain a decent roster and was enjoying the fact that I had started in the beginnner pool with people that were at my own level which enabled me to compete for great heroes that would further my development in game and enable me to help my great alliance.

All this ended on Saturday when I had awoken to an arenaless app, being I have legitimately done nothing wrong that I know of I thought this was a mistake on Kabams end that would be corrected in due course so I sent in two tickets explains my predicament. Both of these were greated with the same automatic/generic response that was of no help whatsoever. 12 hours later I was informed that I had breached their terms of service and that I was banned for 30 days and that I had no hope of overturning my ban and was given no explanation why!

How is this just? 15 days in and the highest I had finished in an event or arena was 69th? I had invested $200 AU plus in the game and on monthly/daily cards, why on earth would I invest money in something when I had all intention to cheat the system and gain the items I purchased through my own money buy deceit?? What's worse is I have no recourse for a reply as it has become clear to me that Kabam have no intention of investigating or explains to me what it is that I have done wrong! I started a thread and it was closed by a mod that directed me to avenue that I had already explored!! How on earth can you treat a player base or paying customers like this?

Honestly the only thing I can think that has happened is I reported a player who has multiple accounts of the same name in the same alliance who had finished with almost 40 accounts inside the top 100 yet failed to back it up with proof because I realised it was fruitess exercise! If someone is reading this who can help get me in touch with a real person who can actually explain to me why then I would be forever greatful as it's clear that every time I send in a ticket I am only talking to a program. Help me please, I feel like I have honestly been robbed of my hard earned. Do not dismiss this!
This discussion has been closed.