Deadpool is Breaking the Bank!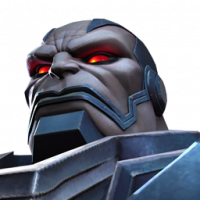 Kabam Miike
Posts: 6,633
Administrator ›
Deadpool is back, and he's ready to cover the Battlerealm with glittering gold goodness! Getting ready, because we've got lots lined up for you all this month!



Assassin Assignment and Merc Missions!


Domino has set up shop in the Battlerealm, and is posting Assassin Assignments for you to complete. These short quests are available every 11 hours, and feature 4 different difficulties for you to explore. Explore any difficulty 100% and Domino might be impressed enough with your abilities and offer your entire Alliance a Merc Mission. Lots more information on these can be found here.



4-Star Deadpool Arena


Yes, it's time for the return of the legendary, much requested Healing Factor Arena! If you have purchased a bundle featuring 3-Star Deadpool, you get an entry to this exclusive 3 to 4-Star Arena. Additional entries can be purchased in the store. We have also removed the Gold costs in the Deadpool Arenas for even more savings! Arenas run June 7, 10:00 AM PDT till June 28, 10:00 AM PDT for 3-Days at a time. These Arenas will run alongside our other Featured Hero Arenas, and follow the same schedule. The top 200 ranked Summoners of each Arena will earn a 4-Star Deadpool, as well as a special Golden Ticket for entry to the exclusive Gold Member Arena. The final 4-Star Deadpool Arena will start on June 25th at 10:00 AM PDT.

NOTE: For all Summoners that have purchased a 3-Star Deadpool in the past, you will receive your entry ticket to the Healing Factor arena the morning of the first Arena. You will not be able to purchase more entries to the Healing Factor Arena until you have used the one in your possession.

NOTE2: Summoners MUST have purchased a 3-Star Deadpool to be able to enter the Arena. There will be a 3-Star Deadpool offer available to everybody again for the price of a Starlord's Loot Bag.



Gold Member Arena


Got a Golden Ticket? Because that's the only way in to the wonderful world of the Gold Member Arena. Running from June 28, 10:00 AM PDT till July 1, 10:00 AM PDT this 5-Star Arena will be paying out big with rewards such as 5-Star Shards, 6-Star Shards and the rare title of Gold Member! The top 200 Summoners additionally walk away with a shiny new 5-Star Goldpool!



Pool's Gold Crystal


Putting your name in gold, a mark of success and ego, and Deadpool has plenty of both! So from June 7, 10:00 AM PDT till June 30, 10:00 AM PDT he has replaced the Golden Crystal with the Pool's Gold Crystal. Same unit price as the original but with double the Gold payouts. This crystal also contains a chance to award a Golden Ticket for entrance into the Gold Member Arena and a rare chance at a 5-Star Goldpool!

Questions? You've probably got them, so ask away!
Post edited by Kabam Miike on