**UPDATE**
We are currently working to fix a known issue regarding Alliance Prestige. With the introduction of Relics, Summoner Prestige is now the average PI of your Top 5 Champions and the average PI of your Top 5 Relics (regardless of which Champion they are attached to) combined.

Today we pushed a fix that will allow for proper reward calculations in Alliance Quests. However, the display for Alliance Prestige will not be accurate and does not include Relic Prestige. This is a display issue only.

When's IMIWs nerf coming dang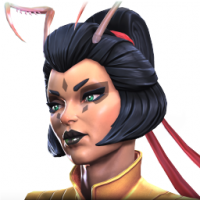 PureLegend
Posts: 25
Starting to notice a trend on other forum sites that people just give up entirely when the they see the new god character on 10 or nodes per AW. Even unduped he puts almost any hero at a severe disadvantage if he's a 5* or 6*...

I saw a map pic and that team placed 2-3 IMIW per person on their map... didn't even need diversity since that team only made it through a small handful of them and was completely blocked.

Makes this game really monotonous and stacked.
Even read that alliances aren't even participating until they farm a few 5/6* IMIW to balance it out... now that's just sad.