**UPDATE**
We are currently working to fix a known issue regarding Alliance Prestige. With the introduction of Relics, Summoner Prestige is now the average PI of your Top 5 Champions and the average PI of your Top 5 Relics (regardless of which Champion they are attached to) combined.

Today we pushed a fix that will allow for proper reward calculations in Alliance Quests. However, the display for Alliance Prestige will not be accurate and does not include Relic Prestige. This is a display issue only.

How do Black Panter (Civil War)'s furies stack?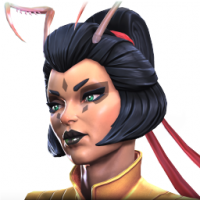 SassyMasty
Posts: 311
★
Black Panther (Civil War) has a synergy with killmonger which grants him a +30% attack fury when parrying for a few seconds. I was wondering if anyone knew if multiple parries (you can stack them) increase his attack the way I think it does, that is, parry 3 times and increase attack by 90%.