Introducing Back Issue #1: Ultron's Assault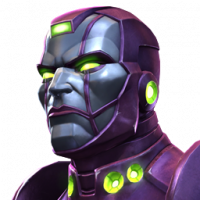 MCOC Team
Posts: 409
Administrator∙Moderator ›
Summoners!

Let's take a trip way back in time! Back to a time where a maniacal machine was on the path to destroying the Battlerealm, but several courageous Champions and Summoners stopped his rampage!

Introducing, Back Issue #1: Ultron's Assault!

As the Contest has grown and evolved, we've introduced many Event Quests, each with their own unique stories, and many that have expanded on the mythos of the Battle Realm and the Contest of Champions. We want to give Veteran Summoners a way to relive those moments, and to give Summoners that weren't with us at the time a chance to experience the stories of the Contest that they had missed out on!

This Event Quest is available in TWO difficulties:

CLASSIC difficulty is a recreation of the original quest. While not completely 1:1, the layouts, difficulty, and dialogue are all the same as you remember. Take a stroll down memory lane and see how far you've come, or experience a quest you never got the chance to play!

VARIANT difficulty is a new spin on the quest, available for Summoners level 40 and up. This version features extreme challenge, new opponents, updated map layouts, and new combat effects for the boss fights. This quest will test even the mightiest of Summoners, so be prepared! You can find out more about the challenges you will face in Variant Difficulty in our latest Dev Diary post here: https://playcontestofchampions.com/dev-diary-added-difficulty/

Each Chapter of Variant Difficulty requires that you only bring Champions from 2 specific classes. These Quests will test not only your skills, but your knowledge of Champion's abilities, immunities, resistances, and counters! Those who rely on only a few Champions will find the need to diversify, even outside of the Champion Requirements in place.

Remember Summoners, Variant Difficulty is going to be HARD! We're stressing the use of a varied roster in this iteration. The good news is that Back Issues are permanent content, so if you're not able to take Variant Difficulty on right now, take all the time you need and come back to it when you feel you are better equipped!

As the name suggests, this is our first iteration of our Back Issue Quests. Our goal is to periodically release more Event Quests for our Summoners to relive! Keep an eye out as we go back and explore more of the history of the Contest of Champions!

Rewards:

For completing and mastering all of the Classic quests, you earn:

Tier 2 Generic ISO x4
Tier 3 Generic ISO x22
Tier 4 Generic ISO x6
Gold x12250
Units x225
Tier 1 Alpha Catalyst x1
Premium Hero Crystal x3
3-Star Hero Crystal x1

For completing and mastering all of the Variant quests, you earn:

5-Star Rank 2 → 3 Gem Crystal x3
5-Star Rank 3 → 4 Gem Crystal (2015 Champions Only) x3
5-Star Rank 3 → 4 Gem Crystal x1
5-Star Rank 4 → 5 Gem Crystal x1
5-Star Awakening Gem Crystal x1
5-Star Crystal x2
Tier 5 Basic Catalyst Fragments x21600
6-Star Crystal Shards x2250
5-Star Signature Stone Crystal x48
Gold x2,100,000
Units x360

You're probably wondering about those 5-Star Rank 3 → 4 Gems for 2015 Champions only. Those crystals contain class specific 5-Star Rank Up Gems that can only be used on Champions that were available upon release and those released until the end of 2015!

Here are all of the Champions that these Rank Up Gems will work on. NOTE: Some of these Champions are not available at the 5-Star Rarity. This list does not necessarily indicate that they will be released.

Captain Marvel
Drax
Ms.Marvel
Spider-Man (Symbiote)
Venom
Ronan
Gamora
Groot
Superior Iron-Man
Thor
Black Bolt
Storm
Cyclops (Red Team)
Colossus
Magneto
Deadpool
Wolverine
Magneto (Marvel Now!)
Deadpool (X-Force)
Magik
Guillotine
Iron Fist
Juggernaut
Thor (Jane Foster)
Dr. Strange
Scarlet Witch
Unstoppable Colossus
Luke Cage
Electro
Ant-Man
Yellowjacket
Spider-Man
Captain America
Spider-Gwen
Rhino
Hulk
Abomination
Joe Fixit
Captain America (WW2)
Black Panther
Moon Knight
Elektra
Punisher
Daredevil
Winter Soldier
Hawkeye
Black Widow
Daredevil (Classic)
Rocket Raccoon
Hulkbuster
Ultron
Iron Patriot
Star-Lord
Kang
Iron-Man
Vision (AoU)
War Machine
Vision

This Quest will be available starting tomorrow, November 14th at 10 am PST! Remember, this is permanent content, so you can take your time completing this throwback!
Post edited by Kabam Miike on