**Known AQ Bug**
We are aware that some alliances encountered a bug during this last AQ that would not allow them to start maps on certain days. We know this has impacted your rewards.
We have been looking into the cause of the problem and once we have resolved it we will explore how to make things right for the impacted alliances. We will provide any additional communication in
Summoners! The Tiered Unit Offers available during the Summoner Celebration sale are only available until July 4th at 10 AM PT, unlike the Unit Store offers, which are available until July 5th at 10 AM PT. We apologize for any inconvenience or confusion this may cause.
Introducing The Uncollected Daily Crystal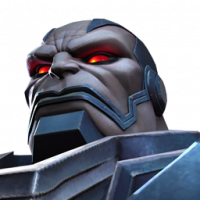 Kabam Miike
Posts: 7,344
Administrator∙Moderator ›
Summoners! Many of you have been asking what exactly The Grandmaster's Favor really entails. How can The Grandmaster thank you for helping him take control over what he believes is truly his, and for defeating his brother?



Well, it's now time for you to get your first taste of what it means to be "The Uncollected".



Ladies and Gentlemen, this is something that many of you have suspected has been long in the making! Something that will reinvigorate a part of the Contest that many Veterans don't feel applies to them anymore! Introducing a brand new Uncollected Daily Crystal! Only available to those experienced Summoners that have defeated the Collector, and have become "Uncollected".

This new Daily Crystal is being completely reworked, and contains materials and rewards that Veteran players will find more useful than those that are in the regular Daily Crystal.

What kinds of rewards? Well, the Uncollected among us will have access to:

Tier 4 Basic Catalyst Fragments (Either 750 or 1,500 fragments)
Tier 4 Class Catalyst Fragments (Either 750 or 1,500 fragments)

Rare chance of:
Units (Either 15 or 30)
Base 4-Star Hero (The ones you can get from a 4-Star Hero Crystal)
Tier 2 Alpha Catalyst Fragments (Either 1800 or 3600 fragments)

This crystal is only available to Summoners that have beaten Act 5: Chapter 2, and are Level 40 or above, and will replace the original Daily Crystal that The Collector created. This is a brand new Crystal, and does not affect any Daily Crystals that may currently be in your possession.

The Grandmaster told you that he would reward you for your loyalty, and this is just the beginning! The new Uncollected Daily Crystal will make its debut on August 2nd! So if you haven't freed yourself of The Collector's grasp, now is the time!

FAQ

Is this Crystal permanent?
Yes! This will be a permanent addition to The Contest for all Summoners that have earned The Grandmaster's Favor!

What if I haven't beaten Act 5 Chapter 2 yet?
If you haven't made it that far yet, don't worry. This crystal will activate for you after you collect The Grandmaster's Favor, whenever that may be. You don't need to rush, and can take your time to progress through to that point.


Post edited by Kabam Miike on