How To Duel.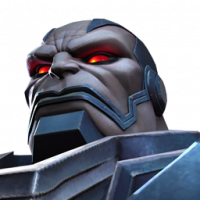 Kabam Miike
Posts: 7,771
Administrator∙Moderator ›
To Duel a specific Summoner, you have to search for them in the Chat/Mail/Social Screen.

- From the Homepage, tap on the circular Icon in the bottom left corner of the screen. Then, tap on "Search".
- You should see a Search Bar at the top of the Screen. Tap on that, and type in the name of the Summoner you would like to Duel (eg. MCOC Cade).
- Tap on the Avatar of the Summoner you want to duel (in this case, MCOC Cade's avatar is Morningstar.)
- Tap Duel, then select Continue.
- Choose the Champion you would like to use to Duel their Champion, and tap Start.
This discussion has been closed.