**KNOWN ISSUE**
Some items are displaying erroneous star ratings. This seems to be happening most on items where typically there are no star ratings. We have found the cause for the issue and it will be resolved, targeting mid-late next week.
Terrax Buff Idea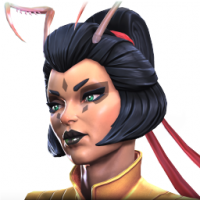 CosmicGuardian
Posts: 324
★★★
Now, before I start this is the first time I've done one of these but I decided with the February buffs dropping in a few days I'd try doing one. Now, I know the buff is already done and there's no changing it now, but this is what I personally think would greatly improve Terrax on offends without making him too much of a pain on defence, so here goes:
- Increase armour break duration in order to make stacking and refreshing them easier as often times it can be easy to lose them after an sp2 due to the length and the defender's actions after the attack.
- Increase armour break potency in order to give him some extra oomph when he achieves his 10 stacks
- Possibly give him bonus offensive power rate for each power cosmic so he can more easily build to his specials, as well as allowing him to keep the rock field up longer as an attacker. This way his field length remains unchanged as a defender.
- Possibly increase base attack or damage from rock field or both, not completely sure how much of an impact this would have on defence though.
All in all these are my thoughts on what I'd like to see. Personally I think his kit isn't missing much, he just needs his damage numbers bumped and I think this is an effective way to do so. I didn't include any numbers or values because I wasn't completely sure how he would scale with other champs and how to make the values balanced. I'd like to know what people think of this possible buff, and if there is anything different you'd change compared to what I said. All opinions welcome!
Post edited by Kabam Ahab on