Ultron's Domain gets an Upgrade this September!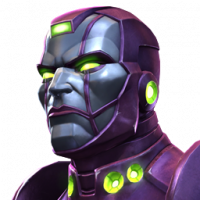 MCOC Team
Posts: 393
Administrator∙Moderator ›
Greetings Summoners!
In our 4th Instalment of our Building the Best Contest Roadmap/Dev Diary series, we mentioned that we're working on a number of improvements to Incursions, as well as updates to keep the mode fresh.
On September 8th, we're going to be rolling out the first upgrade to Incursions: Ultron's Domain. We're calling this Incursions v1.1!
Map Updates
Champion swapping will no longer require Summoners to fight the first encounter with a linked buff. Instead, Summoners will be choosing between swapping a Champion, or picking up a Common Buff!
We're also adding a 2nd Boss Treasure node once every 5 Zones, allowing Summoners to either Bolster their team's strength with a second rare hack or use the opportunity to heal their team.
We've also updated the Champions pool with our newly released Champions of 2020, and added a bunch of new Buffs to the pool. Find the full list in the next post in the thread.
Unlocked Sector 8
Welcome to Sector 8, a new additional difficulty level for our most experienced Summoners! This Sector will start with an average Champion PI of 15,000, and add approximately 7,600 every zone.
As a result, Sector 7 will be tuned down a little to make some room, and give a better player experience when escalating difficulty. The difficulty has been tuned down to start at approximately 10,500 PI (from 12,650), and scale by approximately 5,250 per Zone (instead of 6,200).
Tier Update
Along with a Sector, we're updating the tiers that determine which Sectors you can claim Top Zone rewards from.
The old Tiers 1-7 move down one and become tiers 2-8.
A new Tier 1 will be added for Summoners that have acquired 8x 6-Star Champion. Summoners in Tier 1 will be eligible for Top Zone Rewards from Sectors 7 and 8.
The new Tier 1 will be eligible for a new set of Milestone rewards, with scoring requirements based around participation in Sector 8 (you should be able to hit all of the Artifact Milestones by getting to Zone 5 in Sector 8)
To hit the 3rd Milestone and earn all 3750 Artifacts, you'll need 18,000 points. To hit the 6th Milestone, you'll need 36,000 Points.
Rewards
Obviously, with a new Sector and Tier, you need rewards to match.
First, Sector 7's top Zone rewards will no longer extend past Zone 10, but Sector 8's Top Zone Rewards go up to 25, and include 2000 6-Star Shards, lots of 5-Star Shards, tonnes of Gold, and 9,800x Artifacts!
Minor increases to shard rewards have been made across many other Top Zone difficulties as well.
A new tier of Milestones has also been added for the new Tier 1. By hitting them all, you can earn 3,750 Artifacts and 132,000 gold every 5 days. To hit the 3rd Milestone and earn all 3750 Artifacts, you'll need 18,000 points. To hit the 6th Milestone, you'll need 36,000 Points
That's 22,500 Artifacts and 792,000 Gold over the entire month!
Store Update
Starting September 8th, we're updating the refresh timers on all Store items to 90 days, so they match the cadence of the Incursions 30 Day events. The current Incursions crystals will be extended to match.
The new Tier 1 will unlock 2 new store options: Summoners can spend 32,000 Artifacts to purchase 2000x 6-Star Shards (up to 3 times per 90-day cycle), and will now be able to purchase 2 of each 5-Star Incursions Crystals per 90-day cycle!
Ultron Zones
Every 5 zones, Summoners will now encounter an Ultron Zone! These themed zones will consist of Ultron Drones along the paths, with Ultron or Ultron (Classic) taking the Boss spot. In addition to the pool of nodes, the Ultron Bosses will also have a specific Local Node:
Sector 1: Composite Construction

Sector 2: The Best Defense... 1

Sector 3: The Best Defense... 2

Sector 4: The Best Defense... 3

Sector 5: Tech Wrath

Sector 6: Spry

Sector 7: Dizzy

Sector 8: Dizzy

Break Ultron's Hold of the Contest
These changes go into effect on September 8th! To prepare for them, Incursions will not be available between September 5th and 8th.
Post edited by Kabam Miike on