Due to issue with the "Not Another Anime Reference" Solo Event, we will be disabling the event for the time being. We will return the event at a future date when the issues have been resolved. We apologize for the inconvenience.
**BANQUET EVENT PSA**
To fully participate in the upcoming Banquet's Alliance Event you will need to be in your alliance for 14 days prior to the event's start date on December 20th. That means, stay in your alliance from December 6th onwards to enjoy all there is to offer in the Banquet event.
An Idea for a Superior Iron Man Rework.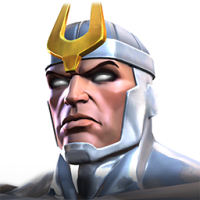 ThatGuyYouSaw235
Posts: 3,091
★★★★★
Superior Iron Man is supposed to be the perfect Iron Man. Unfortunately it just so happens to be the worst of the Iron Man in-game as of now, second only to the OG Iron Man who has an identical kit but has lower numbers.
We gotta fix this, the Endo-Sym Armour has a lot of potential, so why not use it.
If Superior Iron Man was to ever get buffed, he desperately needs a VFX change as well because if you've seen the armour in action, there's a lot of cool visuals that come with it.
Passive:
Endo-Sym Armour
Superior Iron Man starts the fight with an Endo-Sym Armour buff (For an icon, think of Colossus's SP3 Armour Up), if this buff is removed for any reason, he regains it after 7 seconds. This buff cannot be removed if Superior Iron Man has Class Advantage.
Endo-Sym Armour counts as an Armour Up buff for Superior Iron Man's abilities.
While the Endo-Sym Armour buff is active, Superior Iron Man takes no damage from Coldsnap and Shock effects. If he is suffering from either a Coldsnap or a Shock, he passively gains
+2%
a bar of power per second.
In addition, Superior Iron Man is immune to Ability Accuracy Reduction.
Medium Attacks:
Inflict an Armour Break debuff lasting 2 seconds reducing the opponent's Armour Rating by
-200
. Potency and Duration are increased by
+100%
for each previous attack performed in the same combo.
Note: Basically the idea behind this is that if you just need Armour Ups gone, double medium and you'll get one short and a slightly stronger and longer Armour Break. If you do a full MLLLM combo, you'll get a strong -1000 Armour Break for 10 seconds. If you're really skilled, LLLMM will net you two strong Armour Breaks.
When Struck:
If Superior Iron Man would lose more than 12% of his Health in a single hit while he has the Endo-Sym Armour buff active, he Auto-Blocks the hit and gains a Perfect Block buff for 2 seconds. This can trigger through Blocking. While he has this buff active, all of Superior Iron Man's blocks are Perfect Blocks. This goes on cooldown for 25 seconds once activated.
If the opponent has a True Sense, True Accuracy or True Strike buff active when this triggers, they are nullified when Superior Iron Man would Auto-Block.
Note: Nice little safeguard if you get screwed over by a rogue hit. I added the True buff nullification so you can't get screwed over those as well, yeah nullification is an unusual ability for a Cosmic champion to have, but why not? We have mystics with no mystic utility, we have a mutant who is good against Tech champions, why not a Cosmic with niche nullify.
When Blocking:
If Superior Iron Man lands a Well-Timed Block, the Endo-Sym Armour gives him an Unstoppable buff for 1.5 seconds. Cooldown: 7 seconds.
Note: A work around to Parry Immunity.
Special Attacks:
The Endo-Sym Armour adapts to use the opponent's strengths against them. Triggering a Special Attack pauses Armour Break debuffs and gives 70% of their missing duration back to them.
Superior Iron Man gains a Fury buff for each Armour Break debuff on the opponent that he has inflicted, they each increase Superior Iron Man's Attack Rating by
+10%
. Superior Iron Man gains additional Fury buffs based on the potency of each Armour Break. Superior Iron Man can gain up to 4 extra Fury buffs for each Armour Break on the opponent. Each Fury buff lasts 8 seconds and are paused during a Special Attack. Max: 30.
Note: Okay so this writing may seem confusing but the idea behind it is that the Fury buffs are tied to the Armour Break and the potency. What I mean by the potency is that for each hit you landed in your combo to increase the power of the Armour Break debuffs equals +1 Fury buff. This means basically, -200 Armour = 1 Fury buff.
Special 1:
Superior Iron Man gains a Vigilance buff lasting 12 seconds and causing Superior Iron Man to ignore miss. While a Vigilance buff is active, Superior Iron Man reduces the opponent's Auto-Block Ability Accuracy by
-100%
.
Superior Iron Man's Combat Power Rate is increased by
+50%
if he lands a hit that would cause the opponent to fail a Miss or Auto-Block.
Note: If you need to keep the opponent's Miss and Auto-Block in check, your damage won't be hampered too much. The increased Power Rate should boost you up to a Special 2 or maybe a Special 3 if that's possible.
Special 2:
Superior Iron Man inflicts a Shock debuff that deals 200% of his current Attack Rating over 12 seconds.
Pause and refresh all Fury buffs on Superior Iron Man.
Special 3:
Superior Iron Man gains a Power Gain buff that lasts 4 seconds. This Power Gain grants Superior Iron Man
+4.5%
of his Max Power over the duration of the buff. This cannot surpass 75%.
Signature Ability:
Dark Genius
If Superior Iron Man would be struck while below 15% Health, he goes into Power Surge which grants him a Regeneration Buff regenerating up to
15%-45%
of his maximum health over 8 seconds.
While the opponent is Armour Broken, they are more aggressive and have a
+30%-70%
increased chance to launch a Special Attack.
Ideal Playstyle:
-Get yourself to 3 bars of power.
-Parry
-LLLMM
-Try and get an MLLLM combo in or if you're really skilled, LLLMM.
-Launch the SP3, if you have enough time on the Armour Breaks, do another Medium or two.
-You should now have about 14-18+ Furies which will give you a fat Power Gain
-SP2
-Big Damage
Now let's sum the changes up.
"Superior" Iron Man:
-Armour Up
-Armour Break
-Regeneration
Superior
Iron Man:
-Armour Up
-Armour Break
-Regeneration
-AAR immunity
-100% Shock and Coldsnap resistance
-Power Gain
-Damage Cap
-Unstoppable buff on Parry
-Vigilance
-Anti-Auto Block
-Fury buffs
-Increased Power Rate
-Shock
-Aggressive AI
-Passive Taunt
This may not be that good, but hey. It's better than the old version.