**KNOWN ISSUE**
An unknown error has resulted in Grandmaster Gauntlet progress being reset for a portion of our playerbase. As a result, we will be temporarily removing the Grandmaster Gauntlet as a playable mode. The mode will be reinstated when the team has resolved the issues.
**KNOWN ISSUE**
There appears to be a bug causing missing VFX (visual effects) for a number of elements including traps, phasing and some blocking animations.
The team is aware and looking into the cause of the issue.
Selling Champions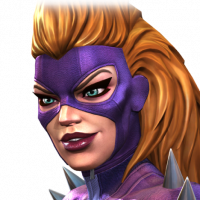 Skinthiswood
Posts: 3
★
I once thought that this was a free country. Freedom of speech, freedom to travel without being stopped and harassed by the cops, freedom to own guns. So it should be the players freedom to sell any champion of theirs that they want. I understand that selling champs could hurt the player in the long run but that's their choice. You should give the players the ability to sell their champions back but with a (pop up) warning explaining the risks. That way the player knows the risks but has the freedom. A win - win.
Post edited by Kabam Porthos on
This discussion has been closed.