**KNOWN ISSUE**
Currently, Alliance Prestige (as it concerns Alliance Quests) is not taking Relic Prestige into account. If possible, we are working to address this for the next round of Alliance Quests but will have more information for you when it is available.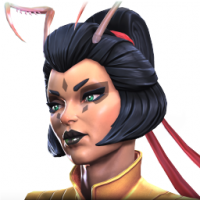 Cdw1981
Posts: 17
★
We are the
[email protected]
- a new alliance formed from members of 2 alliances that weren't going anywhere and were tired of non-active slacker members that wouldn't communicate.
We have boss killers and a few newbies. We are currently looking for new members to join us! We are currently looking for 100k and above accounts that want to grow with us. So if you are in the same boats we were in and want to have fun playing this game in a relaxed casual alliance... then come on in! ..and yeah, yeah... we know this is a Marvel game...but we think Supergirl is pretty freakin' cool too! 👍
Either reply here, or contact either AntonioLitto18 or Tomtom1979 on Line!