Champion Boss 6.2 still BUGGED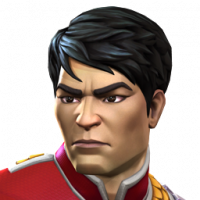 Loudog
Posts: 2
As I work through exploring 6.2 I made the decision to move to 6.2.6 and the champion boss. I used She Hulk against him as she was my only counter for him. With her nerf coming in a weeks time I thought I should get in and clear him while I can.
Firstly this fight is incredibly hard, theres no denying that, but my concern comes specifically from his final 10% which are bugged. The way this fight works during the final 10% is that you you need 5 prowess charges and then you can special 3 him to beat him. But this doesn't happen, because when I reached the 5 prowess charges he gained another 5 indestructible buffs. Attached are 2 photos that show two seperate occasions over the past day's attempts. Here is it clear that I should be able to beat him, and but he has 5 indestructible charges again. This happened 5 times where it was impossible to beat him, causing me to waste over 1500 units to try and defeat a bugged boss.
Making difficult content is part of the fun. But when it is clearly bugged thats a huge problem. This fight was impossible for me to clear for no reason other than, it's BUGGED. It's incredibly frustrating for a player when you put units into revives to get nothing out of it. I feel something has to be done, whether through fixing the fight or through some compensation. There is no way it's legally fair to have something like this present in the game and do nothing but ignore the problem.
Now I have tried to contact support and they haven't even tried to help me in any way. They have ignored my emails and chosen to not address my issue at all. I have wasted over 1500 units trying to clear him and had to leave the quest. I feel there is a big issue currently with this fight and Kabam are still ignoring it.
want to know what you guys think, and more importantly if Kabam will actually get in contact with me and help solve this issue.