We are currently experiencing an issue causing a delay in delivery of Summoner Advancement, the Alliance Quest event, and other 3-Day X-Men use event. We are working to resolve this, but it will likely take a few days. We will ensure that these rewards are delivered to affected Alliances. Please do not change Alliances until your rewards are delivered.
Occult Labs - Epic Difficulty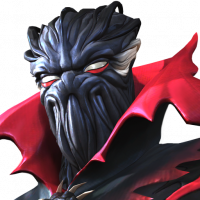 Crazyjack719
Posts: 392
★★
I just want to say that this should be a permanent feature of the game, yes it is challenging, but I think that this is the perfect way to challenge yourself and your roster with minimal risk.
I have done both my entries and took in my top champs; 6* Hawkeye, 5* r4 Hype, 5* r4 Void, 5* r3 GR and a 5/50 Blade.
I must say that the RNG blessed me with 50/50 hard and easy matchups, but the node combinations were ridiculous! A couple rolls of the dice and i was able to get some more favourable nodes. This kind of content is definitely what i expect from the beginning of Act 6 and I love the fact that we can practice in this way, yes it is not for everyone and some may feel it is way too much effort for reward but then this is definitely not designed for those type of people.
As a few tips for those that feel this is challenging;
Please dont feel obliged to do the hardest difficulty, just do master which has similar rewards
Bring your top champs, boost up if necessary
Treat this like your AW path, be conservative, bait specials, use the nodes to your advantage
It is not the end of the world to quit out, at worst you are only losing 250 5* shards, Man up, try again
As they say, the Symbiote will make this alot easier when fully ranked, take advantage of that to get your rewards.
I hope this added some light in what seems like a very dark tunnel!
TLDR; Occult Epic is hard but achievable, don't die, use the dice and acknowledge your place in the game.