Suggestion for countering Hyperion- Variant 1.3 and Champion Clash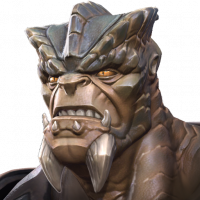 DanveerKarna
Posts: 87
★
Hyperion has been one of the most annoying defender especially since Variant difficulty came out. Players have posted multiple videos on "how to counter Hyperion". Each covers aspect on how to limit damage (Iceman) or control power (Rogue).

Well, I used KM to counter him. Even a 4* 550 KM (unawakened) us good enough to manage SP3 of Hyperion. You just need BPCW on your team and game is over since the start. With proper skills (yeah, you would still need skills to stay away from Hyperion touching you) Hyperion is beatable without power control, mystical dispersion etc. And this works for both Variant (1.3) and Champion Clash.

I understand that BPCW on team mean we might have to sacrifice one slot. I would suggest team like -
Slot 1. Blade/ AA- Magik counter
Slot 2. CG/IMIW/Sabertooth- Iceman Counter
Slot 3&4. KM & BPCW - Hyperion Counter

+ any other damage dealing champions such as spider SE, Voodoo (for final fight), Agent Venom (can work for both Void and Iceman)

Cheers!