**UPDATES TO ENLISTMENT GIFTING EVENT:**
To prevent exploitation, we will prevent new Accounts from being able to Gift enlistment crystals. We will also be taking action on those who are using 3rd Party Sellers, Bots and other farms to gift themselves mass amounts of Enlistment Crystals. Lastly, we will be adding an expiration timer to Enlistment Crystals. All unopened Enlistment Crystals will expire on Oct 18 @ 17:00 UTC. For more information, please see this post:
https://forums.playcontestofchampions.com/en/discussion/346104/updates-to-enlistment-gifting-event
**KNOWN ISSUE**
We have adjusted the node placement of the new AW maps to better allow path traversal. As a result, defender placements have been reset. Please, take a moment to re-place your defender setup. We will be pushing out a message in-game shortly.
possible aw scoring issue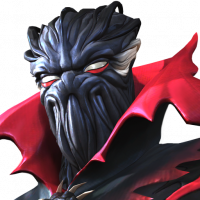 Lormif
Posts: 7,365
★★★★★
So while monitoring my alliances AW today I noticed something strange, we had 3 defenders left 2 bosses a korg, sentienal, and one mini a hyperion up, but the AW score screen said we only had 2 up. While I was discussing this with my alliance I saw their team take down our korg and I looked again. The system said 1 defender, but we still had hyperion and sentienal up, so I took a screen shot. That was 20 minutes ago as I wanted to make sure there was not some sort of delay in viewing bgs. I have restarted the app, as well as changed bgs and back again. The reason this concerns me is that it could affect scoring for people in tiers where not all the mobs are killed.