Roster direction.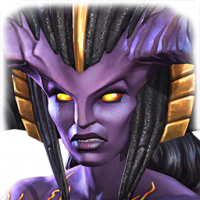 phillgreen
Posts: 2,263
★★★★
A couple of questions:

1. Should I continue to R4 reasonable 4* or hoard the resources for future 5* use?

Obviously I won't let things expire but should I be using inventory items or just hang onto them. At this stage my only 5* are WS and VP, both at 1/10 but neither strike me as particularly useful and the 5* seem to be too resource hungry to waste on crappy champs.

I always have heaps of class ISO and this has probably dictated recent rank up choices but I don't want to rank garbage just to use it unless it's to R2. I'm considering not even wasting T1A to R3 a lot of my roster.

I don't have T4C to R5 or use for 5* and probably won't see any for a while.

Current 4* R4 champs:

AA duped
SW duped
Sym SP duped
Red mag Duped
Vis AOU duped
Magik duped
captain america duped
NC
Guilly
AV
CB

Here are R3, who from this list should be R4 and why (war/questing etc)

red hulk duped
loki
RR
X23
WS duped
Drax
MK

I didn't add garbage champs to my R3 list but I have a few..

Thanks.