When are the issues with new AI update going to be addressed?!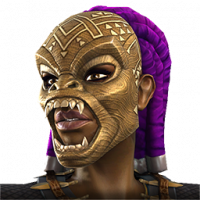 Unknown_Soldier
Posts: 148
★★
There have been multiple threads about how after the updates to AI and the reaction time issues and OT once has the moderators or Kabam approached the subject. There have been multiple complaints, videos etc.....it has been explained multiple ways.....no accountability. When a bug or update that benefits players is found it is IMMEDIATELY fixed even resulting in "emergency maintenance"....yet here we are same glaring issues MONTHS about AI reaction speed being changed.

To restate what are issues so theres no confusion.....

1. AI punches through blocks after receiving 5 hit combos
2. Do to ridiculous reaction time Night Crawler no longer switches to swashbuckling mode making him almost impossible to fight on high difficulty levels and Alliance Wars
3. AI immediately activates a special 1 or 2 after whiffing a combo or being parried which is supposed to STUN them
4. AI dashes forward dashes ...dashes back when about to get hit then dashes forward again resulting in player being screwed into a combo when they had advantage
5. AI immediately dashes forward and lands a hit after being hit while blocking (2 or 3 times)
6. AI ca. Parry a Parry immediately then combo or special player with NO way to block or react
7. AI dashes toward player and lands hit after player does a special 3

ALL of these issues result from reaction time of AI being shortened. In any other fighting game I've ever played they dont suddenly change AI on a whim.

Instead of introducing more content with champions that are stun immune, block parry, cant be hit cause hits dont count as contact, or make unavoidable damage with no counter......fix the issue with AI. Harder content with broken game mechanics is not what we expect from a game over 4 years old. Change the AI back to way it was prior to last 3 updates. The AI reaction speed is TOO fast!