**KNOWN ISSUE**
An unknown error has resulted in Grandmaster Gauntlet progress being reset for a portion of our playerbase. As a result, we will be temporarily removing the Grandmaster Gauntlet as a playable mode. The mode will be reinstated when the team has resolved the issues.
**FIXED**
There appears to be a bug causing missing VFX (visual effects) for a number of elements including traps, phasing and some blocking animations.
THIS ISSUE WAS FIXED ON SEPT 26
Alliance War Season 11 Changes to Off Season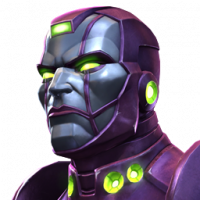 MCOC Team
Posts: 357
Administrator∙Moderator ›
Summoners!

Starting Today, during Off-Seasons we will be locking War Rating for Alliances in Tiers 1 through 5 and reducing the amount of War Rating Alliances in Tiers 6 through 9 can increase or decrease by 50%. There will be no change to Alliances in Tier 10+.

This change will be effective immediately and is being done to combat anti-competitive behaviour, and allow a consistent and fair playing experience for our Summoners and Alliance Matchmaking.

Prepare yourself for all out war, Alliance Wars Season 11 begins July 31st!