4* AG/who to awaken poll number 59,321,291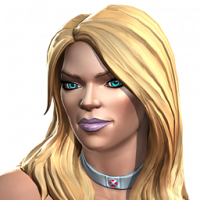 Liss_Bliss_
Posts: 749
★★★
So while 4*'s aren't something I'm really focusing on right now, I'd still like the communities input and thoughts. Currently I have 3 choices I'd chose from to awaken with the gem we got.
Sparky
IMIW
Thing

They all have pluses and minuses but I'm not looking for "the best" just who you all would awaken out of the 3. I'm really looking for someone to goof off with inside of EQ's master and heroic with. Someone who will swing around NY with me and accept churros from old ladies he helped. Someone who will be a billionaire playboy philanthropist when he isn't inside a suit of armor. Someone who will ball up my ex boyfriends car and throw it down the street after he tried to do a MotoX stunt. You know someone who will laugh with me as we destroy the easy quests together and then relax on a beach in the battle realm.

Who would you all awaken just to goof off with?
4* AG/who to awaken poll number 59,321,291
7 votes