**UPDATE**
We are currently working to fix a known issue regarding Alliance Prestige. With the introduction of Relics, Summoner Prestige is now the average PI of your Top 5 Champions and the average PI of your Top 5 Relics (regardless of which Champion they are attached to) combined.

Today we pushed a fix that will allow for proper reward calculations in Alliance Quests. However, the display for Alliance Prestige will not be accurate and does not include Relic Prestige. This is a display issue only.

The 5 Year Anniversary Celebration Kicks off on December 10th!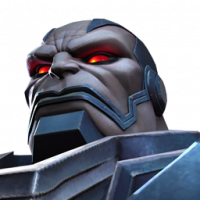 Kabam Miike
Posts: 7,594
Administrator∙Moderator ›
Summoners!

It's almost that time of year again! I'm not talking about the Holidays… I mean it's almost time for Marvel Contest of Champions' Anniversary! We've got a lot planned for you this year, so get ready for all of the madness that starts on December 10th!

The Hall of Heroes

Take a trip down memory lane and face off against (almost) every Champion in the Contest! This 4 Chapter Quest combines the Halls of Healing and Halls of Fortune into one nostalgic battle royale.

This Quest will have 4 difficulties, and awards you with Gold, Potions, and Revives, and more to ready you for the 5th year of the Contest of Champions!

A Special Anniversary Gift!

No Anniversary is complete without an Anniversary gift! Be sure to log in during the week of the 5th Year Anniversary to claim a Special gift from us, to you!

This gift will be based on your Campaign Progression level, so if you're on the cusp, make sure you get there soon!

A New Profile Pic!

Tired of wearing that "4" Profile Pic? It's time to upgrade it to a shiny new Number! What could it be? The suspense is almost too much to take!

7-Day Anniversary Calendar!

Starting on December 9th at 4pm PST, until December 17th, Summoners can reap the benefits of a special Login Calendar! Don't miss a single day to ensure you don't miss out on Crystal Shards, Potions, and Rank Up Resources!

The Long Awaited Anniversary Boost!

You've patiently waited all year, and it's finally here! The long awaited Anniversary Boost! From December 10th at 10am PST until December 17th at 10am PST, a special boost that grants a 20% increase to all Gold, Experience, and Battlechips earned will be live! Break open those Gold and Arena crystals to refill your coffers!

Pool's Gold Crystal

Returning alongside the Anniversary Boost is the Pool's Gold Crystal! Gold Enthusiasts may remember this Crystal as the only way to acquire the gilded Goldpool while they fill their vault with gold that they can later dive into!

A Brand New Trailer!

Mark your Calendars, because you won't want to miss this! Make sure to keep your eyes on the MCOC YouTube, Facebook and Twitter channels to catch the newest Anniversary Trailer!

All of this kicks off on December 10th! On behalf of everybody here on the Marvel Contest of Champions team, I want to thank each and every one of our Summoners for 5 excellent years in The Contest, and for all of your dedication over the years! We've still got more planned for the end of 2019, so stay tuned!