**UPDATES TO ENLISTMENT GIFTING EVENT:**
To prevent exploitation, we will prevent new Accounts from being able to Gift enlistment crystals. We will also be taking action on those who are using 3rd Party Sellers, Bots and other farms to gift themselves mass amounts of Enlistment Crystals. Lastly, we will be adding an expiration timer to Enlistment Crystals. All unopened Enlistment Crystals will expire on Oct 18 @ 17:00 UTC. For more information, please see this post:
https://forums.playcontestofchampions.com/en/discussion/346104/updates-to-enlistment-gifting-event
Dr VooDoo Vs SS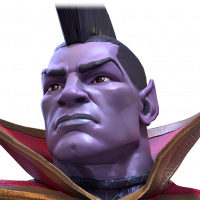 HSC
Posts: 87
★
Hi Guys,

I am currently doing act 5.3.1.

Could you share with me whether it is worth it to rank 4* Dr Voodoo (unduped) to R5 or Rank 4* SS (duped level 40) to R5 just to clear this act 5.3?

please consider whether i should rank one of them to the R5 since i have the below champ.
1. 5* Starky duped R4
2. 5* Quake undupe R4
3. 5* Thing undupe R3
4. 5* Hood undupe R3
5. 5* x23 undupe Rank 2
6. 5* Proxima Midnight unduped R2
7. 4* R5 Duped ( Blade, mephisto, AA, X23, medusa)
8. 4* R5 undupe Hyperion
9. 4* R4 duped ( cap Iw, Ironman IW, iceman)

any advice is welcome, my goal is clear act 5.3 and do monthly uncollected.

Many thanks in advanced.