Summoners, due to a technical issue, this week's series of Alliance Quests will be cancelled at 4pm PT. There will not be any Rewards for this series. The next series of Alliance Quests will start on April 18 at 12pm PT. We will be assessing the impact on Alliances and compensating accordingly, as well as returning Alliance Tickets.
Act 6.1.5 Crossbones - is BWCV an effective counter? also roster advice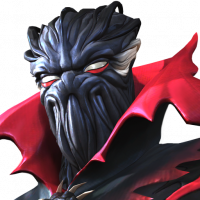 blurblot
Posts: 19
★
I'll be finally taking on Act 6.1.5 sometime soon, and am trying to figure out the best counter to CB. It seems like she'd do well - Biohazard immunity, which in turn feeds her charges and allows her to continually nullify Vigor. I'm wondering if she'll be able to do enough damage without access to SP2 though.
I've tried to search the forums and youtube but haven't come across any info, has anyone tried her?
any advice on my roster would be welcome, here are my options:
I'm thinking a team of Aegon / BWCV / Emma Frost / Nebula, with PM on for the synergies, would be the best way to go. Any advice?